Zerberus Lite-Speed-Tailpiece
so much more than just a replacement
Perfection improved? Can you even improve perfection?
Perfection is not an absolute status.
Athing may be called perfect for so long
until someone comes and makes it better.
All in all, the original Stop Tailpiece is around 70 years old.
Developed in the 50's to allow the strings to be mounted from the ball ends and to be guided over the bridge,
the Standard Stop Tailpiece has been doing its job ever since. No more and no less.
At that time, no one thought much about design and functionality, nor about transmission of oscillations and
optimization.
There is a lot of room for improvement in the stop tailpiece.
When developing the Lite-Speed ​​tailpiece, from the selection of the material to the improvement of the string
guidance and transmission of oscillations as well as the functional design, I attached great importance to
getting the feasible optimum out of this part, which is so important for the sound.
Perfect? Find out.
The first step towards optimization began with the selection of the
material and the manufacturing process.
A standard stop tailpiece is usually manufactured using the die-casting
process. Die casting is a metal casting process that is characterized by
forcing molten metal under high pressure into a mould cavity.
Manufacture of parts using die casting is relatively simple, involving only
four main steps, which keeps the incremental cost per item low.
Or in other words: Die casting is the cheapest way to mass-produce
tailpieces.
Unfortunately, this material does not have much to offer in terms of
resonance.
The Lite-Speed ​​tailpiece is precision machined from a block of aluminum
using a CNC milling machine. Chrome-plated and polished to a high
gloss.
The bolts (M8) are made of stainless steel.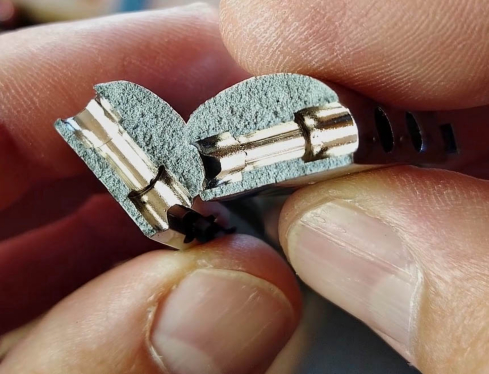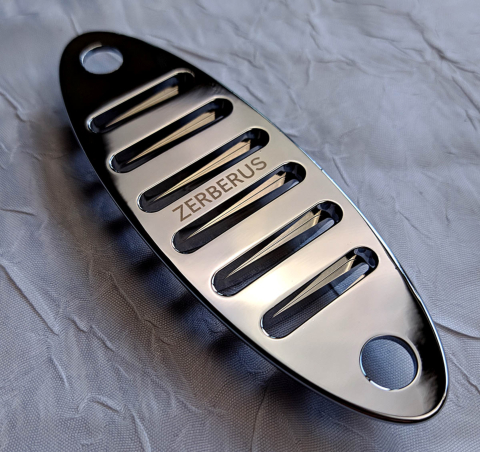 But it is much more than the better material and the elegant design
that make the Lite-Speed ​​tailpiece superior.
low profile design - no sharp edges - the Lite-Speed ​​tailpiece is
much more comfortable under the right hand.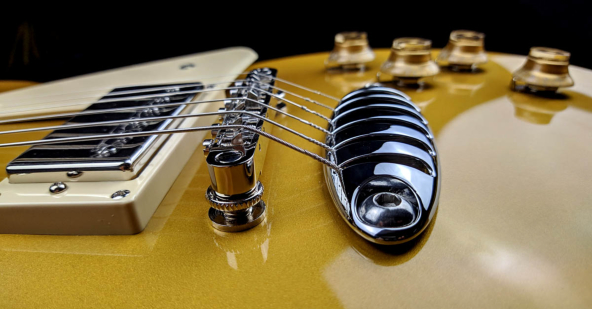 mounted directly onto the top - more string pressure on the
bridge and saddles - more direct vibration transmission:
more Attack - more Sustain
more Power - more Sound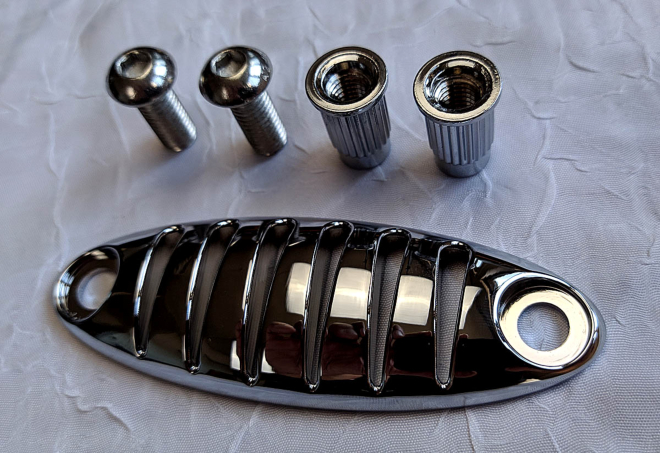 As a result, the Lite-Speed ​​tailpiece, including the bolt, only weighs 56.12 grams compared to
a standard stop tailpiece including bolts that weighs around 105 grams.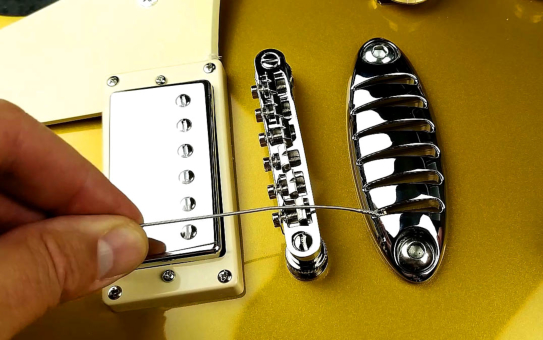 Thanks to the functional design, strings can be changed at lightning
speed without the risk of scratching the top or pickup caps. In
contrast to the normal Stop Tailpiece, the Lite-Speed ​​Tailpiece
cannot fall on the top and damage it by loosening all the strings.
Replacing a standard Stop Tailpiece for a Lite-Speed ​​Tailpiece is
easy and only takes approx. a minute.
Important! Bolt distance 82 mm / thread M8
The bolt spacing must be correct, but if the original bolts
have a different thread (US thread), the original bushings can
be replaced with the included M8 thread bushings.
The Lite-Speed ​​Tailpiece is now available only exclusivly from us at
a price of € 129.00 including VAT. (non-EU members don´t have to pay the VAT)
Free shipping within Germany and the EU
Free shipping to The USA and Canada
Including 2 stainless steel screws (M8),
bolt spacing = 82 mm
2 bushings (M8) and an allen key
Order by E-Mail: