- Our most famous custom model now available as a limited edition series
Discover our latest innovation: The limited edition
Dragon small series.
These guitars combine high-quality materials,
masterful craftsmanship, and affordable exclusivity.
With only 60 available, we offer you the opportunity
to own a unique collector's item.
Each guitar is meticulously finished in our German
workshop and comes with a custom-made, high-
quality case.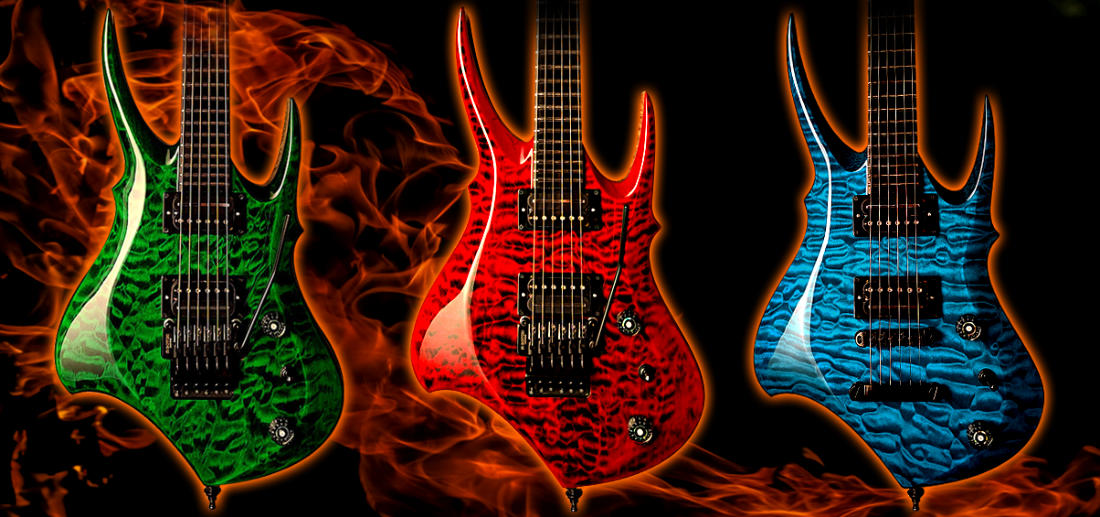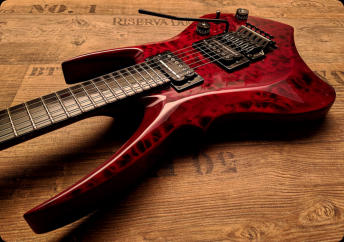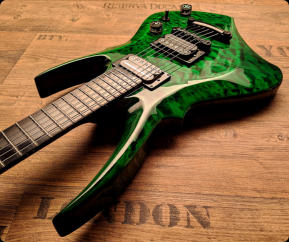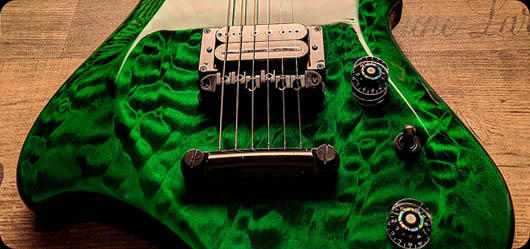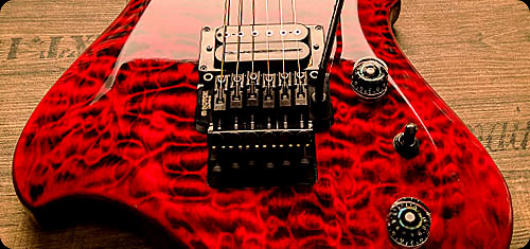 The Dragon is available in two options...
Wilkinson Roller Bridge + Stop Tailpiece
Experience the captivating world of Dragon guitars in our three stunning color variations: Emerald Green, Sapphire Blue, and Ruby Red.
Each color option gives the guitar a unique personality and makes it shine on stage or in the studio. Choose your favorite and immerse
yourself in the magical combination of premium sound, masterful craftsmanship, and unparalleled aesthetics.




……into the captivating world of Dragon guitars in our gallery.
But we take it a step further. We want to ensure that you know exactly which unique guitar you're acquiring.
Each Dragon is one of a kind, and no two are exactly alike. That's why we capture a series of photos of each individual Dragon we've
just completed. We offer you the unique opportunity to choose from the currently available guitars, ensuring transparency and
eliminating any uncertainty.
Contact us today
for more information and secure your very own, truly unique Dragon.

For over 44 years, I have been passionately crafting guitars with dedication. In the new Dragon series, all my knowledge, extensive
expertise, creative energy, craftsmanship, and innovation come together.
Each Dragon guitar is an expression of my deep passion and boundless enthusiasm for the world of electric guitars.
With every note that resonates from its strings, you can feel the love and care that went into creating these masterpieces, reflecting my
over 44 years of experience and dedication in each and every instrument.
…let´s start with the headstock….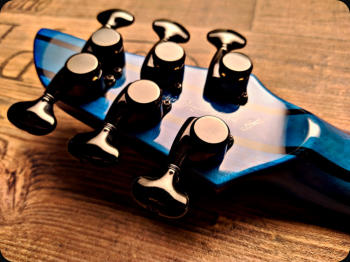 We exclusively use precision locking
tuners for ultimate tuning stability.
Whether you're playing with intensity or
executing powerful bends, your guitar will
always stay perfectly in tune.
The choice for guitarists who demand the
highest standards without having to
compromise.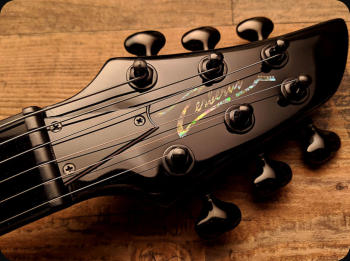 To minimize string friction at the nut, we
have designed the headstock of our
guitars in a way that allows the strings to
run as straight and parallel towards the
tuners as possible. This ensures that your
guitar stays in tune longer, allowing you to
focus on your playing without worrying
about constant tuning adjustments.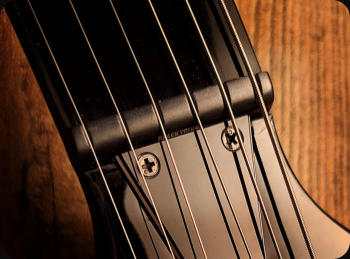 Our Dragon models with a fixed bridge
are equipped with high-quality Black
TUSQ® saddles from GraphTech®
(Canada). These special saddles are
designed to reduce string friction and
provide an improved sound.
The models with a tremolo feature locking
saddles for enhanced stability and tuning
precision.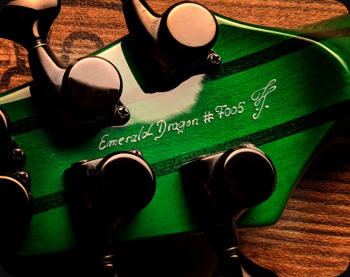 To further emphasize the custom shop
character of our Dragon guitars, I have
personally signed each guitar on the back
of the headstock. With meticulous
attention to detail, I have also handwritten
the model designation and serial number.
This personal touch adds a unique and
exclusive element to every Dragon guitar.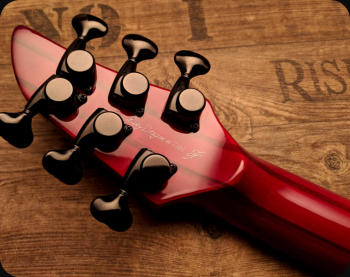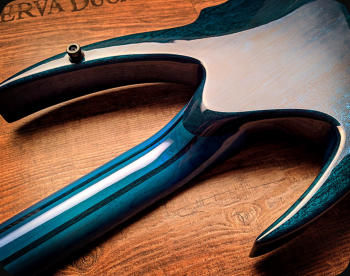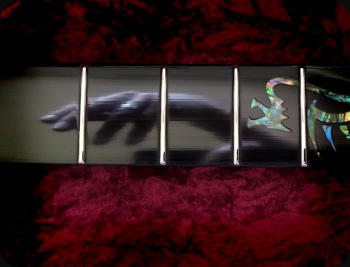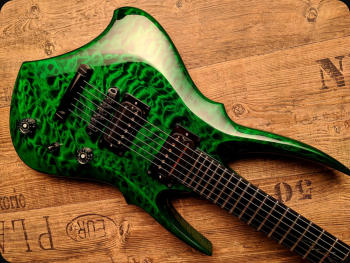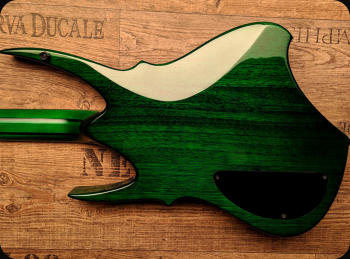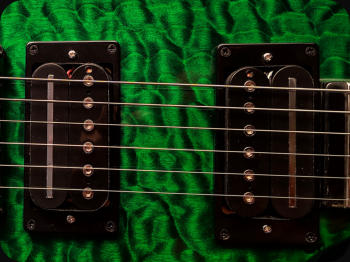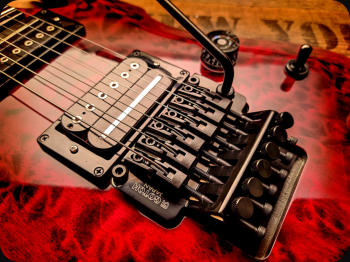 The volute protects the headstock from
fractures and provides additional stability,
ensuring the longevity of the guitar. This
feature is a testament to our precise
craftsmanship and commitment to
producing guitars of the highest quality.
An inlaid 5-piece neck construction.
The multi-layered design of maple and
mahogany ensures stability
and prevents the neck from warping.
For optimal vibration transfer, enhanced
sustain, and playability up to the highest
frets.
Through meticulous polishing, I have
created a mirror-like surface that reflects
your image. Ebonol is a premium material
used as a substitute for ebony. Compared
to ebony, Ebonol fretboards offer a more
precise and well-balanced tone, resulting
in even higher sound quality. Additionally,
Ebonol provides the advantage of a
sustainable and environmentally friendly
alternative to exotic woods.
Our Dragon guitars feature a stunning
one-piece quilted maple veneer that
showcases breathtaking beauty. Each
veneer is unique and enhances the
elegant aesthetic of every individual
Dragon guitar. The quilted maple veneer
adds an unparalleled level of beauty,
making these guitars truly stand out.
The Dragon guitars feature a high-quality
mahogany body crafted from two to three
pieces. These woods are sourced from
certified harvesting and carefully seasoned
to prevent any warping of the body and
unleash its full tonal potential. Each Dragon
body has been meticulously crafted to
ensure optimal stability and resonance,
resulting in outstanding performance.
The Dragon guitar proudly introduces our
brand-new Kammerstein "Soulwire I"
pickups. These pickups have been
specifically designed for the Dragon guitar,
offering an unmatched sound experience
that fully captures the versatile tonal facets
of the instrument. With the "Soulwire I"
pickups, you will experience a balanced
tonal character, remarkable clarity, and
powerful resonance that bring out the best
in your playing.
On the 30 models without tremolo, I have
installed Wilkinson® Roller Bridges in
combination with stop-tailpieces. This
combination is designed to protect the
strings and minimize the risk of string-
break. With their high-quality construction
and sturdy design, the Wilkinson Roller
Bridge, in conjunction with the stop-
tailpiece, delivers reliable performance and
excellent resonance.
On 30 models, you will find the Gotoh
GE1996T Tremolo, manufactured in Japan
and renowned as one of the best Floyd
Rose tremolos on the market. With a
hardened steel baseplate and edge, the
GE1996T delivers maximum stability and
precise performance. The GE1996T
Tremolo meets our high standards for
quality and functionality, leaving no room
for compromises.
On all our guitars, we use S.I.T. Strings
because they represent the highest quality
and tuning stability. S.I.T. Strings are
manufactured in Ohio, USA. We believe
that choosing the right strings has a
significant impact on the sound and
playability of a guitar.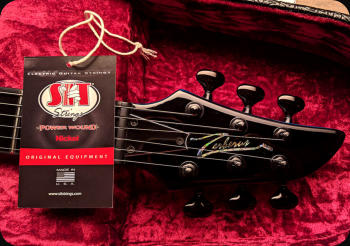 Our guitars feature meticulously crafted
electronics compartments, coated with
shielding paint. These hidden quality
features are a testament to our dedication
and attention to detail. Every wire has been
personally hand-soldered by me, ensuring
the highest level of craftsmanship.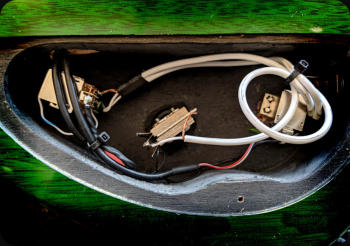 Our guitars are equipped with acrylic
knobs adorned with abalone rings. The
master volume and master tone controls
feature push-pull functionality, allowing for
individual coil splitting of the humbuckers.
Experience a sonic versatility that leaves
nothing to be desired.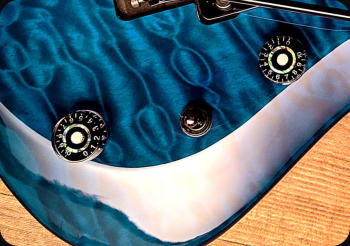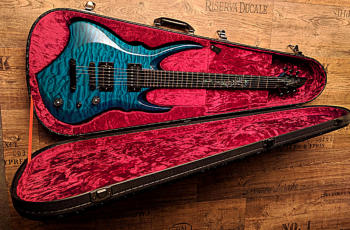 Perfectly protected and stylishly packaged:
Each Dragon guitar comes with a custom-
made, high-quality Zerberus guitar case.

Dragon with Wilkinson Roller Bridge:
1428 Euros + 19% value added tax
Dragon with Gotoh GE1996T Tremolo:
1512 Euros + 19% value added tax
Value added tax applies only to buyers within the EU.
Both guitars come with a high-quality Zerberus Hard Case included. The remarkably low price may surprise you, considering that a
handcrafted Customshop Dragon typically costs around 4500 euros.
But how did we manage to offer such Customshop-quality guitars at such an affordable price?
Read on below to find out how we made this possible.
You may wonder how we are able to offer such high-quality guitars with
custom shop characteristics at a comparatively affordable price.
Here's the secret: Through a long-standing and successful collaboration
with a renowned Korean company, we have built a valuable partnership.
The quality of the woods used and the craftsmanship have consistently
impressed us.
We receive the finished painted blanks, which we then refine into
exquisite masterpieces in our German workshop in Speyer, with
meticulous handwork. This time-consuming and crucial part of the
manufacturing process gives the Dragon guitars their custom shop
character. The result is an exceptional guitar that embodies the Zerberus
Customshop spirit and meets the highest standards. Trust in our
extensive experience and enjoy the masterpiece that has emerged from
this unique partnership.The journey begins with the painted body with
neck, which is the heart of every Dragon guitar. From there, the guitar
undergoes a symphony of artisanal steps in my workshop, ensuring the
utmost attention to detail:
✅ Fret dressing and rounding for unparalleled playability.
✅ Precise polishing of frets and fretboard to perfection.
✅ A meticulous high-gloss polishing process, revealing its true beauty.
✅ Installation of precise locking tuners and hardware.
✅ Intricate electronics soldering and assembly.
✅ Hand-installation of the pickups and electronics.
✅ Stringing and fine-tuning for an impeccable setup.
✅ Thorough quality assurance through hands-on playtesting.
✅ A final round of hand-polishing and meticulous inspection.
Every detail gets my hands-on touch.
But here's what truly sets the Dragon Series apart:
Before embarking on this journey of creation, I didn't simply send a CAD
drawing to my esteemed Korean manufacturer.
Instead, I meticulously crafted a prototype entirely by hand.
This prototype served as the guiding star, ensuring that the Dragon
Series is faithfully built to capture the very essence of my craftsmanship,
as if each guitar were lovingly handcrafted in my workshop in
Speyer/Germany.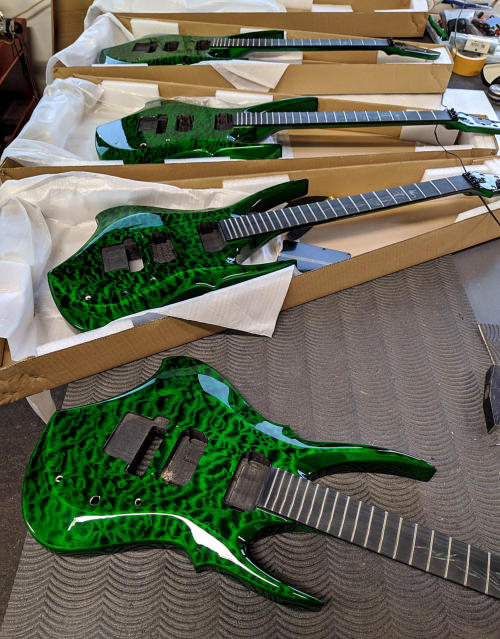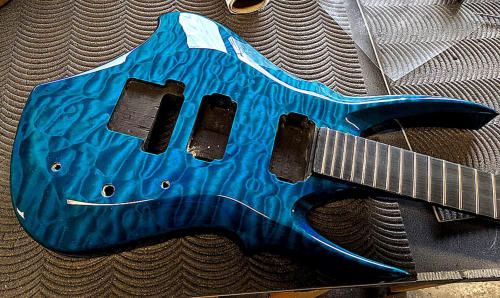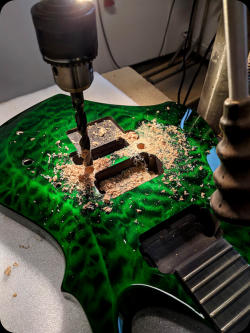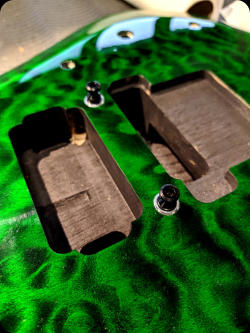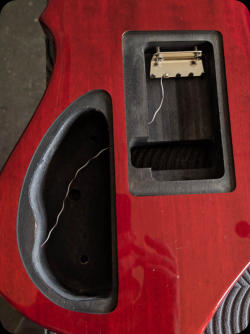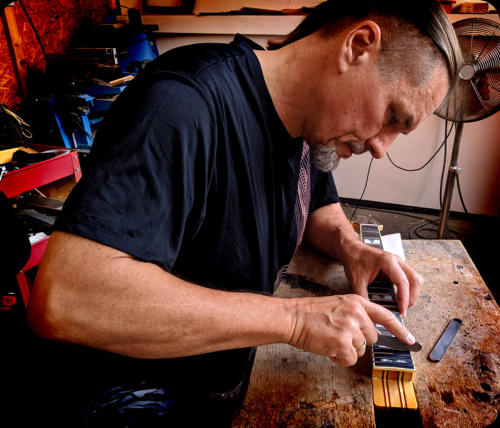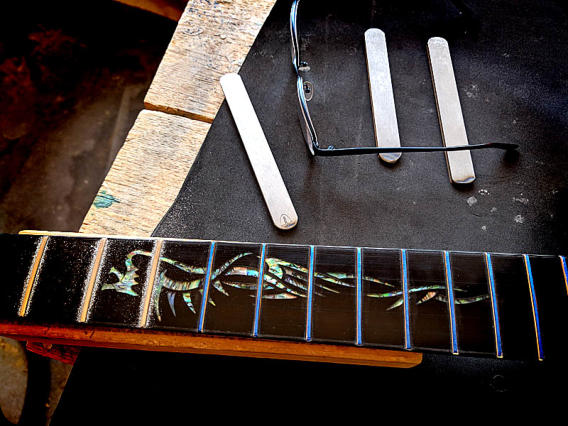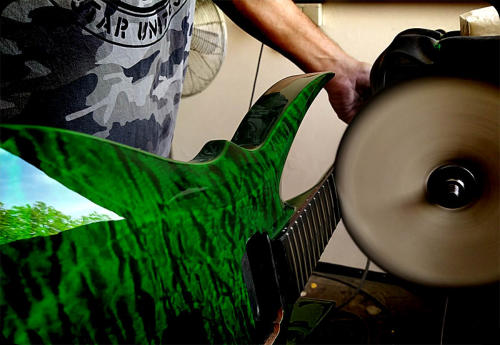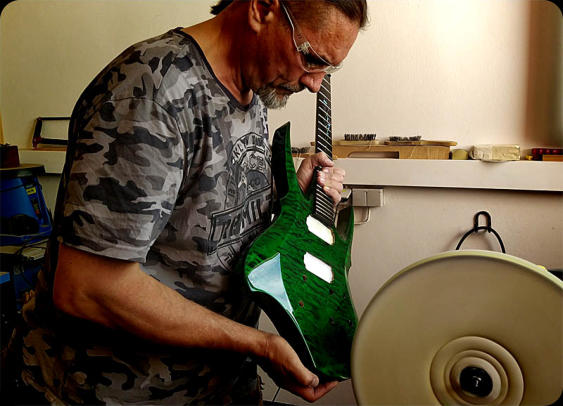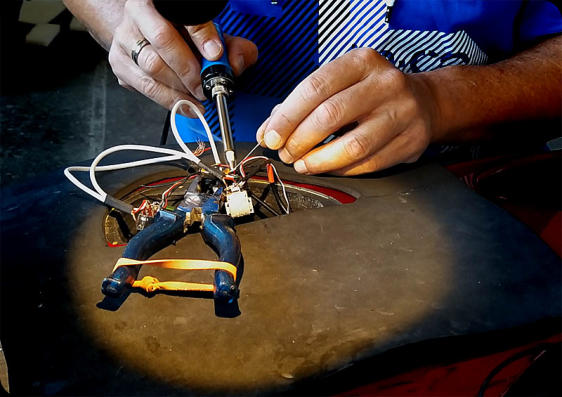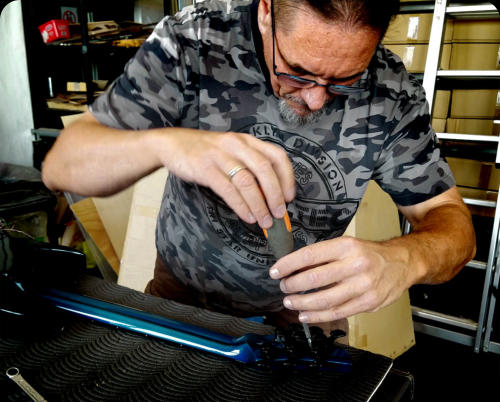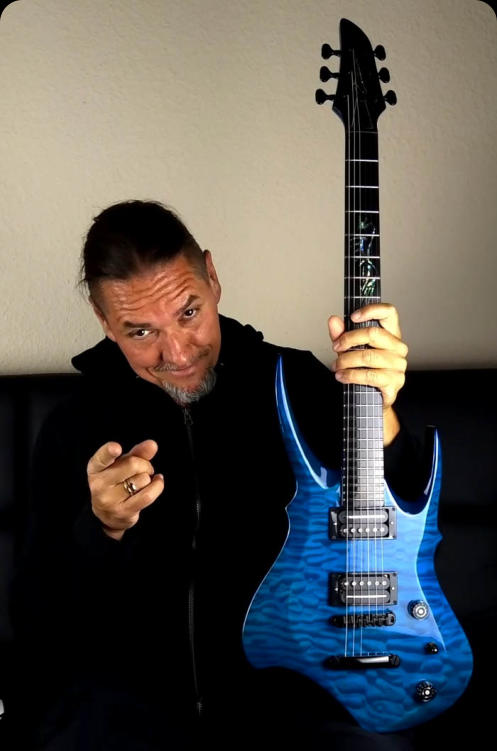 Dreaming of a custom shop guitar, but the
prices exceeding the 4000 Euro mark are
beyond your budget?
With prices starting at
1428 Euro + 19% VAT (Fix Bridge) and
1512 Euro + 19% German VAT (Gotoh
Tremolo), the Dragon is the perfect choice
for you!
(The German Value added tax applies only
to buyers within the EU)
Seize this opportunity and get your hands
on a Limited Edition Dragon that comes
as close to a custom guitar as possible –
all at an unbeatable price.
Don't hesitate for too long, as these
coveted guitars are selling fast.

But we go one step further. We want to make sure that you know exactly which unique guitar you are acquiring.
Each Dragon is one of a kind, and none of them looks exactly like another. That's why we take a series of pictures of each individual
Dragon we have just finished. We offer you the unique opportunity to make your personal choice from the currently available guitars. ***
No surprises, but full transparency! ***
Here you will find all the Dragons currently available. CLICK!
Secure your own, unique Dragon.